Cannabis found in a painting of Emmanuel Adebayor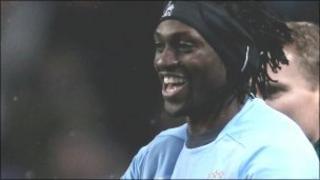 Drug smugglers tried to hide cannabis worth almost £3,000 in a painting of footballer Emmanuel Adebayor.
The wooden framed picture from Togo was seized as it passed through a postal sorting office in Coventry.
The painting of Manchester City's former Arsenal star was addressed to a property in Tottenham.
The UK Border Agency revealed details of the find and others to highlight the ploys of drug traffickers.
Sniffer dogs
Officials have also intercepted stashes of drugs hidden in bottles of Baileys, woven baskets, packets of peanuts and yams that had been opened and glued back together.
Brodie Clark, head of Border Force, said the concealed drugs were all found during searches at ports, airports and postal sorting depots last year.
He said: "Criminals are prepared to invest large sums of money to come up with ever better concealment methods because they know the potential profits from the awful trade in harmful drugs are considerable.
"However, the smugglers are no match for the skill of our officers and the state-of-the-art technology at their disposal."
Unusual luggage
Other parcels included glass ornaments in which air pockets had been stuffed with cocaine and a Belfast-bound birthday card holding cocaine worth £40,000.
Border staff use a range of methods and specialist equipment to detect drugs being smuggled into Britain.
Sniffer dogs are trained to identify certain drugs and cash while x-ray machines can reveal unusual luggage or parcels.
A low-dose radiation body-scanner can be used to detect whether mules have swallowed or stashed packets of drugs and officials also act on tip-offs.