Record low for water temperature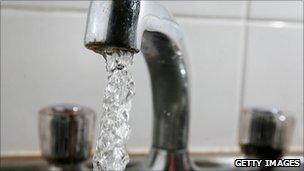 The temperature of water going to homes from reservoirs in the Thames Valley and London has dipped to a record low, officials have revealed.
Thames Water said due to freezing weather water had cooled to a "staggeringly chilly" 1.8C.
Until now the coldest water temperature recorded was 4.9C in 2001 - the average is 7.3C.
The company said cold weather could cause damage and leaks to pipes along the 20,000-mile (32,186 km) network.
It has received 300 new leaks reported to it when it would normally expect about 75 at this time of year.
Thames Water said cold water could cause problems for pipes, especially the century-old cast-iron ones, to contract resulting in breaks.
The company, which serves 8.7m water customers, has doubled its two-man leak-fixing crews to 140 to combat the problem.
It also has 280 leak-detectors out finding leaks below ground before they become disruptive visible bursts on streets and pavements.
Jerry White, Thames Water's head of operational control, said the cold weather was proving a challenge.
"This is the coldest start to a winter that anyone at the company can remember, and some of our staff have been here over 40 years," he added.
"This is reflected by the staggeringly chilly water in our reservoirs and pipes.
"If you're away over the Christmas period, please ensure all the external water pipes at your property, or in your garage, are insulated so they don't freeze and pop."
Water temperature data for Thames Water goes back to 1985, four years before the company was privatised in 1989.
Related Internet Links
The BBC is not responsible for the content of external sites.