Fairy challenge at Godstone garden centre for hospice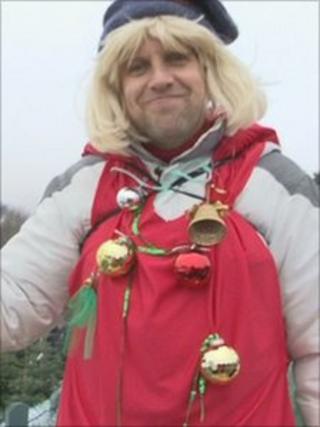 A man from Surrey is braving sub-zero temperatures by sitting on top of a Christmas tree dressed as a fairy for a week in aid of a Sussex hospice.
Richard Holloway is undertaking the 24/7 challenge at the Knights Ivy Mill Garden Centre, near Godstone.
He is living on a platform above the Christmas tree display with only a waterproof shelter and sleeping bag.
After spending his first night in temperatures of -4C, he said his feet were cold but his spirits were high.
Mr Holloway, who is a supervisor at the garden centre and has taken on the title "hairy fairy", is raising funds for St Catherine's Hospice, in Crawley.
"It's really going well," he said.
"There's a tremendous public spirit towards the hospice."
He added: "I won't be shaving while I am up there and I am hoping the beard will provide some extra warmth."