Leek harvesting gang 'treated workers as slaves'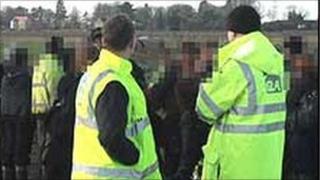 A gang made £10m harvesting leeks by recruiting migrant workers and treating them as "slaves", a court heard.
Eastern Europeans worked long hours in winter in fields in Cambridgeshire, Nottinghamshire and Lincolnshire, Northampton Crown Court heard.
It is alleged they were made to live in cramped, dirty, inhuman conditions and regularly cheated out of their wages.
Five men and two women, including some from the same family, deny conspiracy to exploit migrant workers.
Those charged are Gurdip Singh Somal, his wife Manjinder Kaur Somal, their nephew Jujhar Singh, Santokh Singh Nizzar, Varinder Singh, Fateh Singh Bal and Ania Jemiola.
They deny two charges of committing the offence between December 2004 and November 2008.
Gurdip and Manjinder Somal, Jujhar Singh and Jemiola deny conspiracy to exploit by arranging the arrival of the migrants in the UK.
All defendants except Jemiola deny conspiracy to exploit by arranging travel within the UK.
'Threatened and beaten'
Jonathan Kirk QC, prosecuting, said Gurdip Somal ran the multi-million pound business providing agricultural labour to farmers.
He said: "The case against them is that they cruelly mistreated and criminally exploited these migrant workers.
"The workers came here on the promise of good wages, conditions and accommodation.
"They were put to work in the leek fields, where many were intimidated, threatened and beaten."
The gang then cheated them by paying them less than promised and deducting money from their wages, the court heard.
In just four years, the Somals raked in more than £10m. The workers' passports were taken and they feared being left homeless in a foreign country.
The defendants were arrested by police and other authorities in November 2008. The case continues.