Empty shops increase in Rotherham - research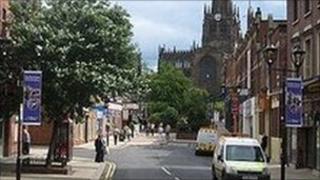 Rotherham has seen the sharpest rise in the number of vacant shop units in the Yorkshire and Humber region, according to a study commissioned by the BBC's Inside Out Yorkshire programme.
The research shows 28% of the town's shops are vacant while there is a 25% vacancy rate in Bradford and Grimsby.
The survey by the Local Data Company shows Leeds has the most "pound" shops and York has the most charity shops.
A spokesman for Rotherham Council said things needed to improve.
The document from the Local Data Company compared the opening and closure rates of retail properties, empty shops, discount stores and charity shops.
The rates were compared from the first six months of 2009 to the first six months in 2010.
York had 20 charity shops operating in the city while the South Yorkshire town of Doncaster had 16, with both places unchanged in those numbers since last year.
The Yorkshire and Humber region saw the least change of the whole of the UK in the charity sector with just a reduction of two to 224 shops in total.
The cities of Leeds and Bradford had the most "pound" shops with a dozen operating in Leeds and 11 in Bradford.
'Spend more money'
Tim O'Connell, who is Business, Retail and Investment manager at Rotherham Metropolitan Borough Council, said interest needed to be drummed up in the town.
He said: "What we need to do is to bring more people in to spend more money.
"The reason I'm optimistic of being able to do that is you only need a relatively small change to be able to make a big difference to the town centre.
"If you think of Rotherham there's a population of around 250,000 and you only need to get everybody, per head of population, to spend a pound a week in the town centre - that's going to impact on around a 30% improvement in trading conditions.
"So it's not a lot to change."
Matthew Hopkinson, from the Local Data Company, said: "Rotherham's problem is that it sits right in the shadow of Meadowhall with all the latest jazzy brands.
"It's also close to Sheffield and there is also a lot of pull away.
"If you don't live or work close to Rotherham, you'd probably go elsewhere."