Devon and Cornwall locations 'vital to US security'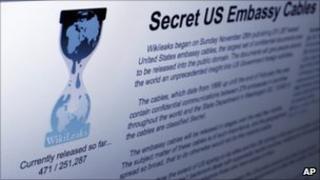 Seven installations in Cornwall and Devon are listed among key facilities the US describes as vital to national security, the Wikileaks website says.
The US State Department in February 2009 asked all US missions abroad to list all installations whose loss could critically affect US national security.
The list includes pipelines, communication and transport hubs.
The installations include a former factory in Plymouth and communications facilities in Cornwall.
'No real shock'
In Britain the list ranges from Cornwall to Scotland, including key satellite communications sites and the places where trans-Atlantic cables make landfall.
A former BAE Systems factory in Plymouth is listed. A number of BAE Systems plants were involved in joint weapons programmes with the Americans.
In Cornwall, five transatlantic cables which come ashore in the county are mentioned.
A telecommunications base in the county is also listed.
Downing Street has condemned the publication of the list, and Washington said the information could be used by terrorists.
However, an expert on counter-terrorism from Exeter University said the listed details were "no real shock".
Bill Tupman, from the university's Department of Politics, said: "Anybody who is in the business of terrorism will have done their research and know that those exist.
"In any case, they're not really the sort of targets that the present-day terrorist is going for. They're looking for high-density people targets, not sophisticated communications targets."
Wikileaks said it had not given any precise locations of the installations.