Fewer problems as North East England freeze continues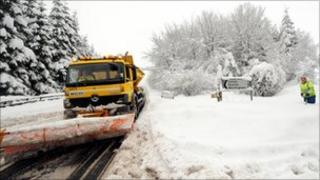 Drivers are once again being urged to take care on roads around the north-east of England as the sub-zero temperatures continue.
Despite the continuing cold weather, there was less disruption across the region.
Over the past week hundreds of schools were closed but most have reopened although a number remain shut because of access problems.
There was also some disruption to train services.
Northern Rail train services between Morpeth and Chathill were suspended due to adverse weather conditions.
Trains shortage
Tyne and Wear Metro operator Nexus said it would not operate some peak services due to a shortage of trains caused by the sustained freezing weather.
There was a revised timetable for trains on the East Coast Mainline.
Go North East said its bus services were operating normally but there were some diversions because of parked vehicles and road conditions.
Flights were operating as normal from Newcastle Airport.
Residents in North Tyneside whose rubbish was not collected on 26 or 29 November have been asked to put out black bags as the council attempts a limited rubbish collection using flat back vehicles.
Pauline Osbourne, regional chair of the federation of small businesses, said that the big freeze was going to be costly for businesses but she was unable to put a figure on amounts while the situation was continuing.
NHS Blood and Transplant is urging people who donate blood to make a special effort to keep their appointments, as the snow and freezing conditions have led to a drop in supply.