Does every English city need a mayor?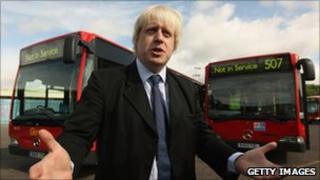 Big cities tend to attract big characters.
From Boris Johnson in London to Michael Bloomberg in New York, elected mayors are intended to be the face of the place they represent.
However, are they needed in cities all across England?
The government seems to think so. Its Localism Bill is expected to propose referenda in 12 of the biggest cities, giving voters the opportunity to decide if they want a mayor.
The aim is to reinvigorate local politics and, perhaps more importantly, make someone clearly responsible for local services at a time of cutbacks.
The new mayors would be encouraged to drive forward efficiencies and make better use of council budgets - to deliver more for less.
On the streets of Sheffield you will find plenty of people who are cynical about politicians.
"We've enough liars," said one man when I asked him if he would vote for a mayor.
More bureaucracy?
Many could see potential benefits, however.
"Sheffield is a big city and a mayor could put the issues forward a bit more strongly," said another shopper.
The cuts have already had an effect here. On the edge of the city centre, land has been cleared for a new retail quarter but the project has suffered a serious setback.
Government funding that had been promised for the Sevenstone development was suspended earlier this year. A smaller scheme is now having to be considered instead.
Business people believe that Sevenstone is the kind of project a mayor could champion.
"I think broadly we wouldn't say no to a mayor if they did a job," said Richard Wright, the executive director of Sheffield Chamber of Commerce.
"We would be against it if they didn't do a good job and they simply added to bureaucracy and cost."
Political change
There are already a dozen places across England where elected mayors exist, including Doncaster, just 20 miles away from Sheffield.
Political change there has been anything but simple and easy.
The relationship between the current mayor of Doncaster, Peter Davies, and the council has been incredibly fraught.
An Audit Commission report talked of "dysfunctional politics" and a "hatred of the mayor" among councillors.
A government team was even sent in to try to get the local authority back on track.
Mr Davies, who is an English Democrat, says he is not surprised by the antagonism from the Labour-controlled council.
"They've lost power," says the Doncaster mayor.
The councillors still have some influence which they have been determined to show.
Earlier this year they blocked Mr Davies' budget plans and politics in the town have been further complicated by his need to pick members of his mayoral cabinet from the council.
The English Democrats have no councillors in Doncaster.
Mr Davies accepts there have been difficulties: "That was only because certain neanderthal councillors didn't want a mayor and whoever the mayor was they were going to oppose.
"At the moment things are better and we are working together for the good of Doncaster."
Shaking up the system
Peter Davies is not shy of publicity which, combined with his "get tough" policies, helped him stand out in the mayoral campaign.
He was seen as an individual prepared to kick against the establishment.
Many future candidates may follow a similar manifesto, but that could lead to a risk of destabilising councils elsewhere.
However, there are some people who believe that shaking up the current political system could be worth it.
Christine Tooze, chief executive of Kickstart, a voluntary organisation in Sheffield which relies heavily on council funding, believes an elected mayor would be beneficial there if given real powers.
"We need some teeth in the city," she insisted.
"I really feel if we could have somebody who had some clout, like in London, that would be really key."
That may well depend on the individual - but voters will first have to decide if they want a mayor in their city at all.