Teesside and County Durham travellers face disruption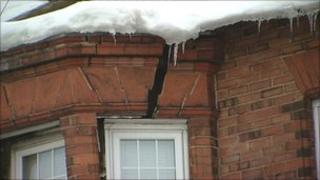 People across Teesside and County Durham are being warned that snow and icy conditions are likely to hamper travel for several days to come.
The A66 remains closed between Brough and Bowes due to snow, as is the A689 in County Durham between Wearhead and Alston in Cumbria.
Part of Chester Road in Sunderland is closed after the weight of snow forced a window to break away from a house.
Durham Tees Valley Airport is open but some flights are subject to delay.
Northern Rail services between Middlesbrough and Whitby are cancelled due to heavy snow.
Most bus services are operating normally, although operators warned of restrictions on estate roads which had not been treated.
Councils and the Highways Agency said major routes were being treated regularly.
In Sunderland, part of the A183 Chester Road was closed after the weight of snow above a bay window forced it to come away from a terraced house.
No-one was in the property at the time and police said neighbouring homes were not affected.
A Northumbria force spokesman said structural engineers were assessing the damage.
Forecasters predict more snow and freezing temperatures well into this week.
Vulnerable neighbours
Cleveland and Durham Police urged drivers to be aware of freezing conditions on the roads which had resulted in icy conditions.
Health officials have urged people to check on vulnerable neighbours after it emerged two elderly people had died in freezing conditions in Cumbria.
Stephen Groves, head of emergency preparedness at NHS North East, said: "We're asking everyone not only to look after themselves but to take time to check on those who are most vulnerable.
"Don't assume they are OK or that someone else has checked. Go and see for yourself as they may well have ran out of food and essential medicines.
"Such freezing temperatures significantly increase the risk of hypothermia for those who are most vulnerable and can cause complications with other illnesses and for people with long term health conditions."