Eight hospitals and five organisations get trust order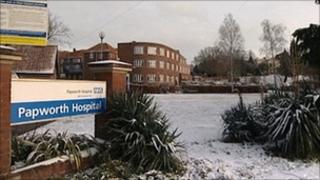 Eight hospitals and five health organisations have been given three years to get foundation trust status.
The 13 organisations are responsible for health care in Bedfordshire, Cambridgeshire, Essex, Hertfordshire, Norfolk and Suffolk.
The policy is championed by Health Secretary and South Cambridgeshire MP Andrew Lansley to give patients choice.
However the British Medical Association said it would lead to a breakdown in the "comprehensive and universal" NHS.
Once foundation trust status is granted hospitals can borrow money, decide on their own clinical priorities, keep profits from land sales and set their own pay levels.
Mr Lansley, appearing on the BBC Politics Show, said the policy was introduced by the last government but not implemented.
He sees it as a way for patients to have more decision-making power over treatment and for hospitals to have more freedom to boost quality and enhance services.
Papworth Hospital became a foundation trust in 2004 and chief executive Stephen Bridge said it had worked for them.
"We can get our ideas in to action very quickly, saving on red tape that is inevitable in the NHS.
"We can also involve our patients much more," he said.
However Dr Mark Porter of the British Medical Association is more sceptical.
"We are concerned and patients should be too about these changes, especially if we have a series of competing corporations making up the NHS," he said.
"Foundation trusts are being encouraged to move away from standard NHS terms and conditions of service.
"But these standards underpin the comprehensive and universal national service."
The Health Secretary sees this competition as healthy because he said it will lead to improvements in quality and offers patients more choice.
"National funding means national standards and the emphasis will be on quality not just finance," Mr Lansley.
"It's not a panacea and we understand there will still be variation.
"We want managers to understand if things are not right they will not be bailed out but someone will step in."
The issue is to be discussed on the Politics Show on BBC One in the east of England on Sunday at 1200 GMT.