Southeastern trains defends snow response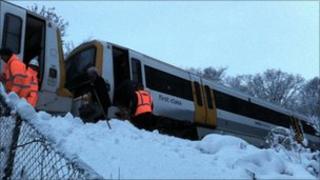 Southeastern trains has defended its decision to run an "extremely limited" service over the past few days.
The firm's spokeswoman Sarah Boundy said staff had worked round the clock to run the best service it could given the "very problematic" weather.
Southeastern has been heavily criticised by passengers who were left stuck on trains for several hours or unable to get home for days.
Commuters said they also had to deal with conflicting rail information.
The Rail Maritime and Transport (RMT) union has called for Southeastern trains to be stripped of its franchise.
'Horrific experiences'
General secretary Bob Crow also urged the government to suspend the planned fare increases next month.
He said: "In light of the horrific experiences of travellers on the railways during this cold snap, it would be nothing short of a scandal if the private train operators were allowed to jack up fares by up to 13% in a few weeks' time."
Ms Boundy said: "We know it's been difficult for them [passengers] but it's also been tough for our staff because they've worked around the clock to try to run the best possible service given the really problematic weather conditions that we've had in Kent and East Sussex."
She continued: "Communication is certainly an area where we definitely can improve. I think that is one of the most frustrating things for people.
"It's also a big frustration for us.
"It's very difficult to try to keep a reflection on the website and at stations of a changing situation. I'm sure we can do better."
Ms Boundy said there were compensation arrangements for people who had suffered cancellations and delays.
She said: "Certainly we do give compensation and also we give compensation as gestures of goodwill as well.
"We take into account people's experiences and for those people stuck on trains when we've had their names and addresses... we'll write to them and say sorry."
She said the firm would be carrying out a review of its service over the past few days to try and learn from it.