Abuse victim wins 'six-figure' pay-out from paedophile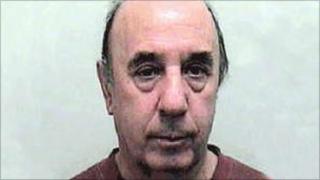 A man from Cornwall has won damages from a "predatory paedophile" whom police fear may have abused thousands of boys over a 35-year period.
Millionaire businessman William Goad, 66, from Plymouth, was jailed for life in 2004 for a string of sexual offences against boys stretching over decades.
Ray Zolla was a teenager when Goad assaulted him over a period of about 18 months in the 1970s.
Mr Zolla's lawyer said her client had been awarded a six-figure sum.
Fight 'worthwhile'
Mr Zolla, who said the abuse had "totally consumed" his life, said he was thrilled with the outcome.
Speaking about the case before the ruling at Southampton County Court, he said: "I started this in 2008. It's been a harrowing experience, but I feel the fight is worthwhile."
During the criminal court proceedings, Goad pleaded guilty to 16 abuse charges but did not admit abusing Mr Zolla.
The charges that he did were allowed to remain on file, solicitors Hickman and Rose said.
Mr Zolla, who now lives near Newquay, said: "Even though Goad was convicted, he never pleaded guilty to myself.
"I want justice, I want recompense and the vindication and the recognition that he did abuse me."
He added: "I just hopes he never gets the parole or released into society. He's destroyed so many lives."
Mr Zolla's solicitor Kate Maynard said: "The judge listened carefully to all the evidence and handed down a powerful judgment concluding that Ray was telling the truth."
She said Mr Zolla had been awarded a six-figure sum.
During the 2004 case at Plymouth Crown Court, Goad was described as a "voracious, calculating, predatory and violent homosexual paedophile".
Goad, who ran shops and market stalls, was jailed for 14 serious sex offences and two counts of indecent assault.
His abuse stretched back to 1965. He groomed his victims by offering them well-paid jobs in his shops and inviting them back to his home, the court was told when he was sentenced.
Goad was jailed for life, with a six-year minimum term.
He was turned down for parole earlier this week. His case could be considered again in 2011.
Police think that Goad may have abused as many as 3,500 boys over a period of 35 years.