Snow causes disruption in Tyneside and Northumberland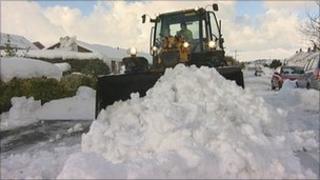 Drivers have been urged to exercise caution due to hazardous conditions on roads across Tyneside and Northumberland.
It is coming up to a week since heavy snow first fell and caused problems with transport and schools.
Black ice was the issue early in the day and dozens of schools were closed.
Fresh snow falls have led to further disruption, and a stretch of the A1 north of Alnwick will be closed during the afternoon following accidents.
Further north in Northumberland, the A68 was closed between Elishaw and Jedburgh.
There is a restricted timetable on the East Coast Mainline and some disruption at Newcastle Airport.
Passengers at the airport were advised to arrive as planned but were warned to be prepared for changes.
The Metro has been continuing to operate, though not to timetable, and many bus services will be withdrawn after 1900 GMT.
One Northumberland taxi driver who was trapped in his cab for seven hours has been told by police it will be next week before he gets his vehicle back.
The driver, who works for Newcastle-based ABC Taxis was eventually rescued by Northumberland Police but had to abandon his vehicle.
The vehicle remains buried by snow near Rothbury.
The Met Office issued a severe weather warning of widespread icy roads and snow for the North East.