Northern Rail strike threat over Christmas pay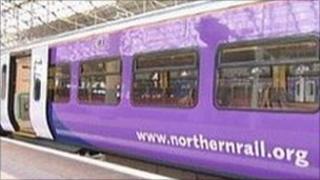 Workers at Northern Rail are to be balloted for strike action in a dispute over Christmas salaries.
The Rail Maritime and Transport (RMT) union likened the firm, which covers the north of England, to "Scrooge".
It said that conductors should receive double time for working the additional bank holidays due to Christmas Day falling on a weekend.
Northern Rail said the union was asking for payments "over and above" previous agreements.
The union said it had put forward a "perfectly reasonable proposal" that staff should be paid the "appropriate rate" for working the extra bank holidays.
'Wholly unacceptable'
RMT general secretary Bob Crow said: "The spirit of Scrooge is alive and well at Northern Rail.
"Everyone in the country knows that 27 December and 28 December are classed as substitute public holidays and in negotiations with Northern Rail RMT has demanded that all conductors should receive double time for working on these dates.
"That is a very modest and reasonable recognition of Christmas holiday working. However, the company has rejected our proposals.
"As it stands, staff rostered to work those days will not receive any enhanced payments. This situation is wholly unacceptable."
Northern Rail said that "agreed terms and conditions are in place for all employees".
A spokesman added: "Tens of thousands of customers use our services every day and threatened action, if it takes place, will only serve to cause disruption and inconvenience to the very people we are here to serve."
The rail company serves many northern cities including Manchester, Liverpool, Preston, Leeds, Sheffield, York, Carlisle and Newcastle.