Wintry weather grounds UK flights at Gatwick Airport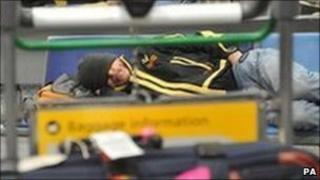 Some flights at Gatwick Airport have been cancelled or delayed because of heavy snowfall and icy conditions across the UK.
The airport said its runway was operating as normal given the weather but about 16 flights to other parts of the country had been grounded.
It urged passengers to contact their airlines before they set off to check flights were still going ahead.
Nearly 50 schools in Surrey and East Sussex have also been shut.
Southern Trains between East Croydon, Gatwick Airport and Brighton have been delayed or cancelled because of the weather.
Earlier a signalling problem in the Redhill area of Surrey led to delays to trains run by First Capital Connect, First Great Western, Gatwick Express and Southern.
Snow-clearing vehicles
A spokeswoman for Gatwick Airport said some 575 flights were scheduled to arrive and depart from Gatwick Airport on Tuesday.
But due to the weather conditions, particularly in other parts of the UK, 16 flights were cancelled.
"Delays to some flights are expected and passengers are advised to check directly with their airline before travelling to the airport," he said.
In January hundreds of flights at Gatwick Airport were cancelled after heavy snowfall and plunging temperatures shut the runway.
Gatwick said it had recently spent £300,000 on de-icing and snow-clearing vehicles.
Wealden District Council said it had postponed Wednesday's meeting of the full council for a week because of difficult travelling conditions caused by the severe weather.
Brighton and Hove council said gritters would be out on the city's roads during the night to top up existing levels of salt.
Its duty officer would be monitoring the weather situation through the evening and was ready to respond if conditions changed but traffic was moving.
Surrey County Council said buses operated normally across most of the county on Tuesday, but with some exceptions in the Warlingham and Epsom areas.
Some school bus services were disrupted.