Hitachi 'patient' despite delay on new trains decision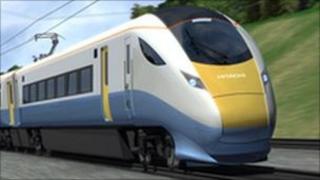 A senior Hitachi manager said it would be patient after a decision on replacing trains, which could bring jobs to County Durham, was delayed.
A decision by the government on the Intercity Express Programme Contract will now be made next year.
A consortium led by Japanese company Hitachi was the preferred bidder to build carriages and trains and Newton Aycliffe was its preferred location.
Hitachi Rail Europe managing director Alistair Dormer said they were hopeful.
Hitachi was provisionally awarded a £7.5bn contract to build carriages. The estimated boost to the North East economy was projected to be £660m over 20 years with up to 800 jobs created.
The government will now consider a cheaper revised bid from Hitachi, as well as an alternative for a fleet of all-electric trains.
'It's frustrating'
Mr Dormer said: "We are still very hopeful. The government have certainly not said no."
He praised the work done by people in the North East in raising the region's profile and for trying to bring train-building there.
He said: "It is frustrating, let's be honest, but it is a long-term deal. This is a deal that's going to be not just manufacturing trains but maintaining trains for over 30 years.
"So for 30 years' worth of investment in the UK I think we are prepared to wait a bit longer."
He said they chose Newton Aycliffe because of a number of factors, including the strength of the local workforce, skills base and proximity to transport links.
Hopes for the work coming to Newton Aycliffe had been further dampened amid speculation the contract for new train carriages could be split between Hitachi and Derby-based train builder Bombardier.