Schools closed and roads icy across north-east England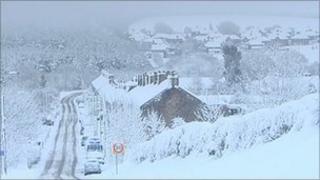 Wintry conditions have been continuing to cause problems across the north-east of England.
About 400 schools in County Durham, Northumberland, Tyne and Wear and Teesside have been shut.
Drivers have been warned to take care with some major routes partially blocked due to accidents during rush hour caused by snow.
In Newcastle three men were arrested on suspicion of disorder after a report of snowballs being thrown at windows.
Throughout the day there was some disruption to flights at Newcastle and Durham Tees Valley Airports, and revised timetables were in operation on the East Coast mainline.
Thunder-snow
Northern Rail said some of its services were affected with buses replacing trains between Newcastle and Middlesbrough via Sunderland and no trains between Middlesbrough and Whitby.
In Northumberland, police have been helping to deliver medicine and urgently needed prescriptions to residents that were unable to travel due to weather.
Officers also worked with national parks staff, to transport blood supplies to Alnwick Infirmary.
Forecasters said there was a bitter north-east wind which was causing temperatures to drop.
The unusual weather condition of thunder-snow was reported in a number of areas.
It has been caused by bitterly cold air from Eastern Europe passing over the top of the relative warmth of the North Sea.
If there is enough instability, thunder is created at the same time as snow falls. Lightning is intensified by the brightness of the snow.