Two police forces warned over stop and search policy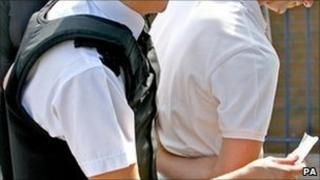 Two police forces have been warned they could face enforcement action over the "disproportionate" use of their stop and search powers.
The Equality and Human Rights Commission said neither Thames Valley Police nor Leicestershire Constabulary could justify their tactics.
It follows a report which found "persistent race differences" in the forces' use of stop and search.
Both forces said they were committed to ending discrimination.
The Equality and Human Rights Commission [EHRC] review, published earlier this year, looked at the use of stop and search powers across England and Wales over the past decade.
It showed black people were six times as likely to be stopped and searched as white people, with Asian people twice as likely to be stopped as white people.
Thames Valley Police and Leicestershire Constabulary were among five forces contacted by the EHRC in May.
Of the other forces, the Metropolitan Police and Dorset Police have since embarked on the National Police Improvement Agency's Next Steps programme on stop and search powers, and are still being monitored by the EHRC.
'Not used fairly'
The commission is seeking more information from West Midlands Police before deciding whether to take further action.
John Wadham, legal director at EHRC, said: "Stop and search needs to be used fairly.
"The evidence is that it isn't and the commission is acting to try to change this."
The EHRC can exercise powers under the Equality Act 2006 to enforce equality and human rights legislation.
A Thames Valley Police spokesman said: "Thames Valley Police takes this matter very seriously as we are aware of the impact that stop and search can have on diverse communities.
"The force intends to engage fully with the EHRC in taking this matter forward."
Assistant Chief Constable Steph Morgan, of Leicestershire Constabulary, said: "The force is committed to fairness and equality in delivering a policing service to all our communities.
"As part of our ongoing aim to deliver the best possible service we have a long history of conducting significant research into the use of stop and search and its impact on the community."