Heavy snow and ice warnings for England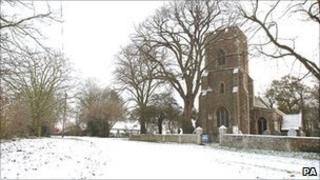 Snow is expected to continue falling across large parts of England, causing further disruption.
The Met Office has issued heavy snow warnings for London, the South East, East Midlands, Yorkshire and Humber, the East and North East.
It also warned of widespread ice on roads across the whole of England.
Snow and ice covered much of the country on Tuesday causing travel problems and hundreds of school closures.
Met Office UK severe weather warnings are in place for much of England.
BBC weather forecaster Nina Ridge said snow showers would persist into Tuesday night across north-east England and parts of the north Midlands and Lincolnshire.
But a line of snow stretching across south-east England towards Dorset would drift southwards and then ease off, she added.
Flight delays
Temperatures are expected to drop to well below freezing into Wednesday, with the greatest risk of heavy snow in northern England.
The early winter weather has badly affected schools, rail, airports and roads.
On Tuesday, more than 800 schools were closed in the North East, Yorkshire, the Midlands, Kent, Essex and Cornwall.
Early flight delays were announced at Newcastle and Leeds-Bradford airports.
In South Yorkshire, a 53-year-old man, from Glasgow, died after becoming trapped between two vehicles on an M18 slip road.
Police said there was snow on the road at the time and officers were looking into the possibility the incident was weather-related.
Many roads are affected by heavy snow and ice.
The A169 is closed in the Whitby area of North Yorkshire because of drifting wet snow and many main roads are impassable in Barnsley, South Yorkshire.
Car batteries
In Cumbria, there are severe delays on the A592 and A686 and one lane remains closed on the A66 between the A685 and A67 junctions.
There are also a number of road closures in Derbyshire.
Motoring organisation the RAC said there were about 2,000 breakdowns an hour across England on Tuesday morning, with some areas up to twice their normal levels for the time of year.
A spokesman said: "The sub-zero temperatures are putting a lot of pressure on car batteries."
The East Coast Mainline is running a revised timetable and there are delays and cancellations on some train services from Kent into London.
In Kent, a woman who was nine months pregnant had to be rescued by emergency services after her car hit an electricity pylon and ended up in a field between Wye and Hinxhill, near Ashford.
Kent Police said a number of vehicles had become stuck in snow in the Dartford and Gravesend area.
In south London, police helped a surgeon complete his journey to carry out an emergency operation after being caught in snow.
The surgeon had spent two hours on the journey before stopping an officer, on routine patrol in Carshalton, at 0945 GMT, who used his car with sirens on to get him to the hospital.
The UK has been experiencing the earliest widespread snowfall since 1993.
The unusual weather is being caused by high pressure over Greenland and low pressure in the Baltic states, forcing cold winds from the north-east across Europe.