Soldier L/Cpl Ashley White defrauded Help for Heroes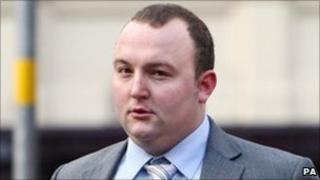 A soldier who "disgraced" his regiment by conning a charity for wounded soldiers has been spared jail because of his service in Iraq and Afghanistan.
L/Cpl Ashley White, of Walsall, sold Help for Heroes merchandise at a pub but then kept the £2,459 he raised for himself, Birmingham Crown Court heard.
Recorder Benjamin Nicholls said he had "cheated" his fellow soldiers and told him to do 300 hours community service.
White, 25, faces a dishonourable discharge from 22 Signal Regiment.
White, of Tasker Street, had sold stickers, mugs and wristbands at a fundraising event. He was convicted of fraud by a jury in October.
'Combat situations'
The recorder told him: "You have disgraced yourself and you have disgraced your regiment - you have cheated your fellow soldiers who rely on Help for Heroes.
"You have cheated the charity itself and you have cheated members of the public who thought they were giving to a worthy cause."
But he said he had decided not to jail him "in the interests of justice" after hearing that he would be required to leave the Army.
He added: "You should have reflected in the sentence the fact that you have served your country in combat situations and given your entire adult life in service of your country."
White, whose barracks is in Stafford and joined the army aged 16, had arranged to pay back £2,200 to the charity, the court heard.