Kent mother 'killed instantly' in Met Police car crash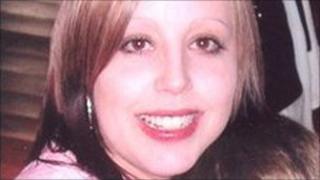 A mother-of-three was killed instantly when a police car being driven in the middle of the road crashed head-on into her vehicle, a court has heard.
Pc Nigel Brown was driving an unmarked Skoda car travelling at 55mph when it collided with Felicity Austin's Renault Megane on the A21 Pembury Road in 2009.
Maidstone Crown Court heard the force of the impact which killed Ms Austin, 29, of Hadlow, was "substantial".
Pc Brown, 47, denies a charge of causing death by dangerous driving.
The jury was told Mr Brown, an officer with the Metropolitan Police's specialist crime wing, was part of a team who were carrying out a surveillance operation in Kent.
Peter Forbes, prosecuting, said the crash happened as the team were catching up with a target they had followed from London but had lost and then relocated.
The court was told Mr Brown's vehicle had blue lights within its front grill and a siren which were being used at the time.
Mr Forbes said Mr Brown was driving south while Ms Austin was driving north towards Tonbridge at about 14mph when the crash happened on 5 May 2009.
He added: "Critically, the defendant's car was straddling the central white line prior to the collision and at the moment of impact.
"Felicity Austin's car was within her own lane at all times."
Jurors were told another unmarked car had been travelling in front of Mr Brown's vehicle and motorists had moved over to let it overtake.
Mr Forbes said drivers then moved back, possibly not realising there was a second police car that needed to pass them.
The court was told data retrieved from the Skoda's black box device showed the vehicle was travelling at 55mph and seven metres from the impact it made a firm move to the left but given the speed it was going, this distance would been covered in 0.3 seconds.
'Highly shaken'
Mr Forbes said: "The Crown maintains that over-taking, driving down the middle section of the road at speed, approaching a bend in traffic, was inherently dangerous.
"The defendant failed to detect the oncoming Renault Megane. When he did, it was too late.
"Nothing permits a police officer to drive dangerously. He should be judged by the same standards as everyone else."
Ms Austin, a mother of three boys aged 10, seven, and five, was returning home from dropping her children off at school and doing some shopping in Tunbridge Wells when the crash happened.
The court heard emergency services tried to resuscitate her but she was pronounced dead at the scene.
It was told Mr Brown, who was left highly shaken by the incident, was heard to ask: "Where did she come from?"
The trial continues.