Heating problems close several Shropshire schools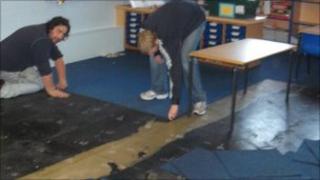 Several Shropshire schools have been closed by heating problems as temperatures across the county plummet.
Gobowen Primary School, in Gobowen, Oswestry, was expected to be closed until at least Wednesday as a result of a burst water pipe.
Apley Wood Primary School, Telford, and Wistanstow Primary School, Craven Arms, were also closed by heating problems.
Shawbury, near Shrewsbury, experienced its coldest recorded November night on Saturday when temperatures hit -12.5C.
Buntingsdale Infant and Nursery School, Ternhill, and Tilstock Primary School, Whitchurch, were also among those schools closed on Monday over heating concerns.
Gritters have been out across the West Midlands region because of below freezing temperatures and frost.
And a band of snow is expected to spread from the east of the region after midnight.