Surrey and Hampshire trust forces over 65s to retire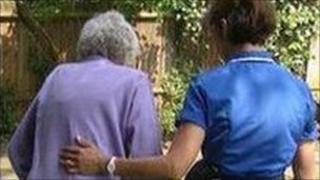 Nearly 130 people over 65 are losing their jobs at an NHS trust which cares for people with mental health problems.
Surrey and Borders Partnership Trust handed compulsory retirement notices to older workers in June, giving them six months' notice.
Julie, a part-time nurse who is leaving her job after 50 years, said she felt demeaned, devalued and discarded.
Mandy Stevens, from the trust, said it was having to make difficult choices about where it spent money.
The trust provides health and social care services for people of all ages with mental health, drug and alcohol problems and learning disabilities.
It employs more than 3,200 staff across 78 sites in Surrey and North East Hampshire.
Julie, 75, who did not want to reveal her full identity, said she worked on an acute unit dealing with people in crisis, who could display challenging behaviour.
She received the compulsory retirement letter out of the blue and leaves her job at the weekend.
"There was no reason given - just that they were getting rid of people my age," she said.
'Difficult decision'
The trust said the decision was made because of reduced income this year. It enabled other staff to keep their jobs instead of being made redundant.
Ms Stevens said it acknowledged that leaving would be difficult for some people.
"It has been a difficult decision for the trust and not one we have taken lightly," she said.
She denied the move was made before a law protecting the rights of older workers is introduced next year.
At present, an employer can compulsorily retire employees at 65 but from October 2011, they will no longer be able to.
"We are having to make choices about where we spend our money and how we manage our teams and our staff and we are going to have to continue doing so in the next couple of years," said Ms Stevens.
But Anna Berry, spokeswoman for Surrey Unison, said the union believed it was "a cynical move to get rid of hundreds of people prior to legislation changing".