Plymouth's Holiday Inn cancels functions after fire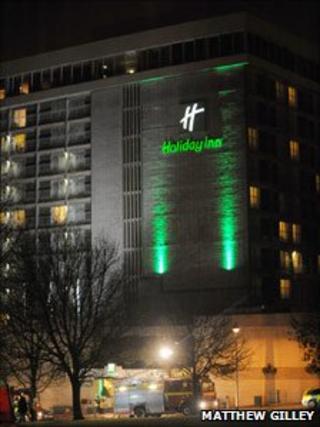 A hotel damaged by fire in a Devon city has had to cancel the majority of its Christmas and New Year functions.
The Holiday Inn in Plymouth was evacuated on 18 November following a fire in the leisure area of the hotel.
The fire was tackled by more than 80 firefighters and led to 214 guests being evacuated from the building.
Functions have been cancelled after water damage from fire hoses caused the ballroom and conference room ceilings to collapse.
The manager of the hotel, Dave Clements said that the hotel staff were contacting everyone on an "individual basis" to cancel their bookings.
He said: "We totally understand how upsetting it is for people, it's also upsetting for us.
"We've had fantastic support from other businesses in the city and we are working with them to minimise the disruption as much as possible.
"It's a question of working with clients on an individual basis and assessing their individual needs."
The fire is believed to have started in the gym area on the second floor just after midnight and was contained in the swimming pool and leisure area.
But water from the fire hoses caused a ceiling to collapse, damaging the Mariner Suite where the majority of functions are held.
None of the guests were injured in the fire, but some did have to be woken up after failing to hear the fire alarms.
Mr Clements said: "My team were absolutely fantastic, the customers were so understanding, they were very supportive.
"The fire brigade did an absolutely fantastic job, I cannot praise them enough."
An investigation into the cause of the fire is continuing.
The week before, on 11 November, the hotel had to be evacuated after an unexploded German World War II bomb was found in Plymouth city centre.