Rare shrimp discovered on beach in South East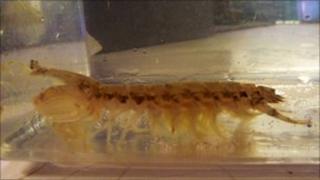 A rare breed of shrimp, usually found in tropical waters, has been discovered in the South East.
Three mantis shrimps were rescued by a fisherman from a beach near Dungeness.
They are recovering in a quarantine tank at the Blue Reef aquarium, Hastings, and should eventually go on display there.
Aquarium spokesman Kate Buss said: "This type of shrimp is incredibly rare and only a handful have ever been recorded locally."
Fisherman Shane Joy discovered the brown shrimps, which are about 10cm (4in) long, after recent storms.
Spearing prey
Staff at the Hastings aquarium are monitoring their health before putting them in a public display area.
Ms Buss said it was particularly unusual to find a mantis shrimp (Rissiodes desmaresti) so far east along the UK coast, although numbers were increasing.
"The fact that Shane found three together would suggest that they were resident here rather than isolated individuals," she said.
She said mantis shrimp have very sharp claws for striking or spearing prey and an "incredibly spiky" rear, making handling them tricky for staff.
The breed lives typically in tropical waters around the world, although they are expected to become more common in the UK as ocean temperatures continue to rise.
The shrimps are the third exotic species to arrive at the aquarium recently, following donations of a rescued Mediterranean sponge crab and a crawfish.