What would hosting the 2018 World Cup mean for England?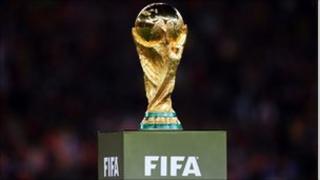 As the England 2018 bid team arrives in Switzerland to persuade Fifa to let us host the World Cup, BBC News looks at what such an event would mean for the country.
Many football fans across the country will be keeping everything crossed on Thursday when Fifa decides who will host the 2018 World Cup.
England is competing against three other bids - from Russia, Spain and Portugal, and the Netherlands and Belgium.
A delegation which includes Prince William, in his role as president of the Football Association, Prime Minister David Cameron and David Beckham - possibly England's most famous footballer of all time - travelled to Switzerland on Tuesday to persuade Fifa voters to bring the tournament to English soil.
It is estimated the event will boost the UK economy by £3bn, the Department for Culture, Media and Sport has said.
"Winning the right to host the 2018 World Cup would be a fantastic opportunity for the country," said Hugh Robertson, Minister for Sport and the Olympics.
"We would put on a fantastic festival of football with supporters from all competing countries welcomed with open arms."
'Safe bet'
Professor Stefan Szymanski, from the Cass Business School, part of City University in London, is more sceptical about the impact the World Cup might have on the economy, which he described as "negligible".
"The UK attracts a lot of tourists anyway and this is not going to be a significant boost to that," he said.
"As many people come, there will be people put off coming to England in the middle of a football tournament."
Prof Szymanski, who specialises in the economic impact of sport, said very little money would need to be spent on stadiums and infrastructure, because the country already has them in place.
"We could host it tomorrow if we wanted to," he said.
"We do not need to build a lot of infrastructure to host the World Cup because we have good transport links internationally and we have stadiums that are large enough to host the event.
"This means we will not need to spend... upgrades to roads, smarten up transport links but it should not be a huge sum of money."
Ironically, this may lead to England missing out on the 2018 World Cup, Prof Szymanski added.
"The way we have sold a World Cup to Fifa is to say that it is a safe bet," he said.
"We have the facilities already but that's not actually what Fifa wants."
He said Fifa was likely to chose a country that would need to build infrastructure, such as Russia, because of the desire to make improvements to a nation by staging the tournament there - as it aimed to do with this year's hosts South Africa.
New stadiums
"Part of the problem is the mistake of thinking the reason for doing it is an economic benefit," he said.
"We want to host the World Cup because we love football.
"As culturally significant as this is... it's insignificant for the economy of the UK."
Eleven cities and one town have been chosen as potential England World Cup hosts.
These are Birmingham, Bristol, Leeds, Liverpool, London, Manchester, Milton Keynes, Newcastle, Nottingham, Plymouth, Sheffield and Sunderland.
Some, such as London and Manchester, already have large enough stadiums and the facilities suitable for such a major football event.
Liverpool Football Club's new owners are yet to decide whether a new stadium will be built or the existing one at Anfield will be redeveloped. The England 2018 bid makes it clear either a new or existing stadium on Merseyside could be used.
Other cities, like Bristol and Nottingham, want to rebuild.
Nottingham Forest have plans for a new 45,000-capacity stadium and Bristol City want to build a 44,000-seat stadium.
Simon Inglis, stadium expert and editor of the Played in Britain sports book series, said the impact of hosting the World Cup would be far greater in places where new stadiums were likely be built.
"For these towns and cities who are going to go into the big time for the first time... this is make or break for them to a certain extent," he said.
"The Bristol stadium, if it gets built, if we get the World Cup, if Bristol remains on the list, the impact will be enormous.
"The local community always benefits in terms of economic impact.
"They would probably only get three games each but all the evidence shows a big competition like this is worth millions in inward investment."
Alan Southern, senior lecturer specialising in enterprise and regeneration at the University of Liverpool, said having the World Cup in England could act as a "catalyst" for regeneration in some host cities.
He said the event would have an effect on the economy, particularly locally, but the amount of impact was difficult to calculate.
Whether it is significant economically or not, most English fans would be overjoyed to have such an important football competition held on English soil.
The last time we hosted the World Cup was in 1966, when Alf Ramsey led England to a 4-2 victory over West Germany in the final - England's only major tournament win.
Mark Perryman, from LondonEnglandfans, said fans young and old had lived with the legacy most, or all, of their lives.
"It's an incredibly important iconic memory for every England fan," he said.
"The idea that it may return to these shores is incredibly exciting."