Southeastern fare increases reach 12.8%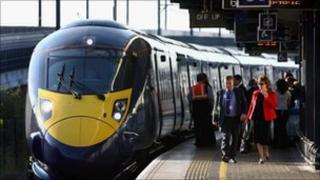 Commuters in Kent and Sussex can expect above average rail fare increases, with some season tickets going up by 12.8%.
The Association of Train Operating Companies has said average fares across the country will rise by 6.2%.
It said the increases from January 2011 were necessary to ensure Britain could continue investing in railways.
Southeastern's increases were capped at 2% above other firms to take account of extra investment in the region which includes new 140mph trains.
Sarah Boundy, a spokeswoman for Southeastern which runs trains from Kent and East Sussex into London, said: "Nobody wants to hear that prices will increase.
"But this is part of government policy to move more of the cost of rail travel towards passengers and away from tax-payers."
Petition over fares
She said government subsidy to Southeastern would decrease as passengers paid more.
Conservative MP for Hastings and Rye, Amber Rudd, has started a petition against what she has called "excessive" train fares.
She said: "This government has taken a view that it has to cut certain expenditure and unfortunately transport has come into that.
"I think that Southeastern should take its share and try to improve the service if it's going to put up prices by this amount."
Under Southeastern's fare rises, a season ticket from Ramsgate in Kent to London will increase by 12.8% from £3,880 to £4,376.
A season ticket from Ashford International to London on Southeastern will rise by 12.7% to £4,328, while a Tonbridge to London season ticket will go up by 11.8% to £3,408.
Transport union TSSA has said the increases are "simply outrageous", and the RMT union has said passengers will be paying "inflation-busting increases to travel on overcrowded services".