Birmingham Airport transplant aircraft crash probed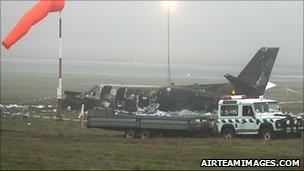 Investigations are continuing into a crash in foggy conditions at Birmingham Airport involving a private aircraft carrying a donor liver for transplant.
Two men were injured, one seriously, in the crash involving the plane, from Belfast, and air investigators said they would speak to those involved.
A transplant operation went ahead successfully with the donor organ despite the crash on Friday afternoon.
The airport reopened on Saturday and it has said some 80 flights were affected.
The Cessna aircraft crash-landed on the tarmac at about 1530 GMT on Friday.
The investigation by the Air Accidents Investigation Branch (AAIB) on the airfield was completed on Saturday and necessary safety checks carried out, allowing the runway to reopen.
An AAIB spokesman said on Sunday that a report would be published "in due course".
He said: "Investigations are ongoing and inspectors will be looking at all aspects of the incident to try to determine the circumstances surrounding this accident...
"The inspectors will speak to those involved, any witnesses and examine the wreckage."
The pilot, a 58-year-old man, was trapped in the wreckage after the crash, suffering from multiple injuries.
A second man, believed to be in his 30s, was taken to hospital with flash burns to his body and a back injury.
An air ambulance spokesperson previously described how their pilot "bravely" entered the burning Cessna to cut off the fuel supply and allow medical staff to reach the trapped pilot following the crash.
A spokeswoman from Birmingham's Queen Elizabeth Hospital said on Saturday that the transplant was carried out successfully on Friday night and the patient was in a stable condition.
Related Internet Links
The BBC is not responsible for the content of external sites.