Cumbrian chemist's 1840 Niagara photo on display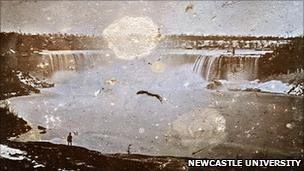 One of the oldest pictures of Niagara Falls, shot by a Cumbrian chemist, has gone on display.
The image was taken by Hugh Pattinson of Alston in 1840 and had, until recently, been sitting on a shelf at Newcastle University since 1926.
It would have taken Mr Pattinson 20 minutes to take the picture using the newly-invented daguerreotype camera.
The university has now loaned the image to the Niagara Parks Commission in Canada, to mark its 125th anniversary.
A spokesman for the university said: "It would have taken Mr Pattinson more than 20 minutes to fix the scene at the Falls on the silver-coated copper plate inside his camera.
"The plate would then have been wrapped in warm mercury fumes, slowly drawing the image to the surface.
"Initially, it was believed the figure of a man in a top hat by Horseshoe Falls was added for effect by the engraver afterwards.
"However, we now believe it was Pattinson himself, standing perfectly still for about 15 minutes while the image was formed."
Very few daguerreotype images have survived from the 19th Century because they can be easily rubbed off the silver plate, the spokesman said.
The university has loaned the Niagara Parks Commission, a tourist organisation, digital copies of the image.
The daguerreotype had only been invented in France a few months before Mr Pattinson's sightseeing trip.
Related Internet Links
The BBC is not responsible for the content of external sites.