Search for the South East's oil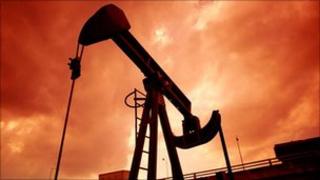 The search for oil to meet the UK's energy needs comes this week to a secluded corner of ancient woodland in West Sussex.
Northern Petroleum plans to begin drilling for oil in Markwells Wood, an area of national beauty in the South Downs.
Britain's newest national park appears to have little in common with the oil rich Middle East.
But prospectors in recent years have focused their search on potentially lucrative sites in southern England.
According to the Department of Energy and Climate Change (DECC), a total of 97 new licences for onshore oil and gas exploration were awarded in the UK in 2008.
'Overriding need'
In the South East, oil company Providence has been drilling from wells in Singleton and Storrington, West Sussex.
Another company, Star Energy, owns three wells at its Palmers Wood oilfield, which passes under land owned by Mohamed Al Fayed in Oxted, Surrey.
Production began in 1990 and by the end of 2007 the company had extracted oil worth £10m.
Northern Petroleum, operator of both onshore and offshore projects, said Markwells Wood would be an extension of its Horndean oil field in East Hampshire.
The company was granted consent for three years to test for oil in Markwells Wood in 2008 by West Sussex County Council.
Despite objections from Chichester District Council, the South Downs Joint Committee and the Woodland Trust, West Sussex County Council said in a report there was a "clear overriding need for oil exploration".
This week, Northern Petroleum is due to move equipment into the woods, near Chichester.
It plans to drill to 1,380m (4,528ft) and said the site has the potential to yield between 35 million and 61 million barrels of oil.
Steve Ankers, a planning officer with the South Downs Society, said: "We have to be honest and say that the site itself is reasonably well hidden.
"Like a number of these small drills they are fairly discrete."
'Woodland is irreplaceable'
Nevertheless, Mr Ankers said the drilling would be detrimental.
He said: "There will be destruction of vegetation and if you are going for a quiet walk in the woods you will come across heavy machinery.
"We feel it's undesirable and we feel we should meet our energy needs in other ways."
The South Downs covers an area of more than 1,600 sq km (618 sq miles) and stretches from Winchester in Hampshire to Eastbourne in East Sussex.
Once drilling is finished, the site must be cleared, replanted with trees and shrubs and looked after for five years.
Other campaigners have expressed fears if the drilling rig is successful, the company would seek further testing or extraction.
Alice Farr, a campaigner with the Woodland Trust, said: "We expressed our disappointment at the time and our view still stands that ancient woodland is irreplaceable.
"Sadly permission for oil drilling has been granted but we hope that the most modern technologies and least invasive processes are used."
According to DECC, UK oil and gas currently supplies about 60% of UK energy needs. It is estimated 1.5% comes from onshore drilling.
In a statement, Northern Petroleum said it was "committed to be a good neighbour to the local community," would work to "very high standards of safety" and seek to minimise the environmental impact.
Next year it also plans to drill in Baxter's Copse in the Weald Basin in Sussex.
Derek Musgrove, the managing director, said the case for drilling was "compelling".
"Whilst we see greater potential in Italy and The Netherlands, it is important that we are pursuing and realising shareholder value for the oil discoveries at Markwells Wood, Baxters' Copse and Hedge End."