Three arrested over Keyworth abduction robbery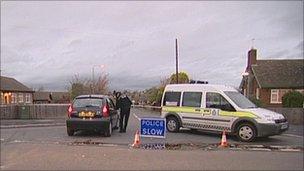 Three people have been arrested in connection with the abduction of a shop employee who was forced to help robbers steal a large quantity of cigarettes.
The man was dragged into a car in Keyworth, Nottinghamshire, and driven to Lincolnshire, where was made to open the Grantham cash-and-carry.
He was left unhurt in a field near Redmile in Leicestershire, three hours after his ordeal began on 3 November.
Police said three people were taken for questioning on Thursday morning.
The man was forced into his car in Wolds Drive, Keyworth, by two masked men.
After taking him to the shop in Gonerby Hill Foot, they loaded the stolen cigarettes into a Mercedes Sprinter van, which they also used to drive him to the field near Redmile.
Retailer Booker, which owns the cash-and-carry, has offered a £10,000 reward for anyone with information about the robbery.
Related Internet Links
The BBC is not responsible for the content of external sites.