Call for Stanhope Ford's permanent closure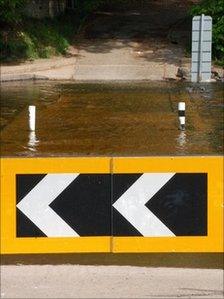 A river crossing in County Durham which has been closed for more than two years could remain shut permanently.
Traffic was banned from using Stanhope Ford in 2008, after an increase in the number of rescues from vehicles which had become stranded or been swept away.
The initial plan was for it to reopen during summer months, but council and emergency service officials have now said that this would put lives at risk.
A consultation on the closure recommendation is being carried out.
Since October 2001 emergency services have had to to retrieve vehicles and occupants from the ford on 23 occasions, despite warning signs on either side of the crossing.
The high cost of rescue operations led to calls for its closure and in 2007 it was shut throughout winter for the first time.
However, only hours after re-opening on 1 April 2008, two off-duty soldiers became trapped in their car after trying to drive across fast-flowing water.
The ford has remained closed since then.
Terry Collins, of Durham County Council, described it as a "dangerous location".
He said: "As part of our consultations we have looked at options such as electronic barriers and major works, but options are limited and the site has proven to be either unsuitable or works, prohibitively expensive.
"Our highest priority is to protect the public."
Councillor Bob Young, cabinet member for environment, added: "As a tourist feature, the ford will remain, allowing pedestrian use via the stepping stones and children can still play in and around it as they have done for many years."
Related Internet Links
The BBC is not responsible for the content of external sites.