Fish return to River Skerne near Darlington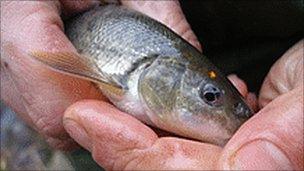 Stocks of fish have been found in a previously barren stretch of river in County Durham.
Records have shown that in 1991 part of the River Skerne, in the area upstream of Darlington, was without fish.
The Environment Agency has been restocking the river, and a survey it carried out found that barbel, perch and brown trout are now present.
A healthy population of dace and chub was also found in the river in and above the town.
Richard Jenkins, from the agency, said: "It was feared that the harsh winter conditions would have had a bad effect on fish including the brown trout fry.
"However the numbers we recorded are very high.
"Our priority now is to look at the whole catchment and see where we can make improvements to continue to increase these numbers in the future."
Related Internet Links
The BBC is not responsible for the content of external sites.