Yorkshire Air Ambulance to move from Sheffield base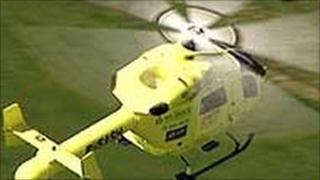 An emergency medical helicopter which operates from Sheffield is to be moved to North Yorkshire to provide a "more comprehensive service".
The Yorkshire Air Ambulance has two helicopters, one at Leeds Bradford International Airport and the other at Sheffield.
Now the South Yorkshire-based aircraft is to fly from Bagby Airfield, near Thirsk, after a review by the charity.
A charity official said the move would also offer cost savings.
Director of fundraising at the Yorkshire Air Ambulance charity, Paul Gowland, said a strategic review of the operations had been carried out.
He said: "What we're looking to do is provide the very best coverage for the whole of Yorkshire, for the five million population.
"The people of Yorkshire are better served with an aircraft at Thirsk and one at Leeds Bradford."
'Cost savings'
The air ambulance charity's chairman Peter Sunderland said the aircraft based at Leeds Bradford airport could reach areas of South Yorkshire within 10 minutes of taking off.
Mr Sunderland said: "We are certain this is a positive move for the charity and also ensures the best use of the financial resource donated by the people of Yorkshire.
"Operating from Bagby will also offer the charity considerable cost savings, which we feel is a great benefit going forward.
"We have a responsibility to make sure all monies donated are spent properly, wisely and efficiently," he added.