Gipsy Moth IV to remain in UK after new owners found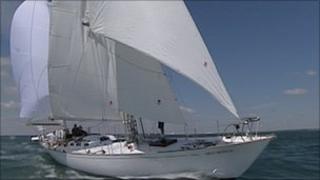 A historic yacht which circumnavigated the world more than four decades ago will remain based on the Isle of Wight after it was sold to British owners.
Gipsy Moth IV was used by Sir Francis Chichester when he completed his record-breaking 1967 solo world trip.
There were fears the yacht would be sold to overseas owners after its charity owners had to sell it.
The new owners have agreed a deal for the UK Sailing Academy charity to keep the vessel to help train young sailors.
The 53ft (16m) ketch will remain at the charity's headquarters in Cowes and a steering committee has been formed to look after it.
Marine heritage
The charity bought the vessel in 2004 and raised funds to restore it to its former glory.
It allowed a group of young people on board to make a second round the world voyage in 2007, sailing back to Plymouth 40 years to the day after its first 30,000-mile (48,300km) adventure.
However it became expensive to maintain the yacht in a seaworthy condition.
Jon Ely, chief executive at UKSA, welcomed the news.
"This philanthropic purchase will ensure that the historic craft remains in UK waters and available to the public and will ensure that she remains in a good seaworthy condition," he said.
"We are delighted that the yacht will remain based in Cowes under our care, and look forward to working with her new owners to ensure that she is preserved as a piece of the nation's marine heritage."
The new owners, who wanted to remain anonymous, are believed to have bought the vessel for a six-figure sum.
"We are delighted to be in a position to keep such a historic yacht available to public," they said in a statement.
"We are both of an age that we remember Sir Francis returning to Plymouth, and it's lovely to be able to safeguard her future, as well as keeping her sailing."
Veteran sailor Sir Robin Knox-Johnston, who became the first person to sail single-handed and non-stop around the world in 1969, said he was delighted.
"It's not just British maritime history, it's global maritime history," he said.
"This boat is iconic in many ways and should be preserved, and the fact that she's British means that we should be proud of her and keep her in this country."