Vascular plan 'will improve care' in Yorkshire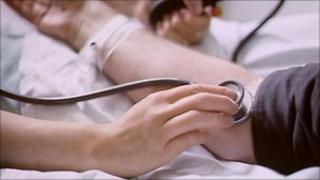 People with serious vascular conditions could see their chances of survival improve with a reorganisation of services in Yorkshire, the NHS says.
The plan would see specialist vascular teams placed at hospitals in Hull, York, Leeds, Sheffield, Bradford, Doncaster and Huddersfield.
Patients who need complex and emergency care would be sent to those hospitals.
The NHS said 10% of patients would be unable to go to their nearest hospital but care would be improved.
Vascular services include all treatments for diseases of the large arteries outside the chest, including blood supply to the brain, arms and legs.
Chris Welsh, medical director of NHS Yorkshire and Humber, said: "The changes we are proposing are based on international evidence of best practice and will ensure everyone in the region receives the very best care available, improving patients' chances of survival and ensuring all patients have equal access to the latest technologies and treatments.
"Specialising services at specific hospitals in the region will enable doctors to maintain their expert clinical skills better as they perform more operations regularly."
A public consultation document has been produced. People have 14 weeks to have their say.