'Great response' over Dudley Port station attack appeal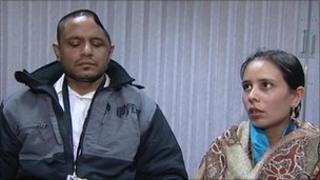 Police say they have had a "great response" after an appeal over an attack in which a man had his skull crushed.
Raghvir Singh, 37, from Derby, was attacked at Dudley Port railway station in the West Midlands on 30 May.
His wife, Baljit Kaur, renewed her appeal for witnesses to come forward.
British Transport Police said it had received "very useful information" and was following up new lines of inquiry after Friday's appeal.
'Crucial information'
Mr Singh was with his cousin, who has learning difficulties, when two men approached them at the station in Tipton.
While Mr Singh was talking to them, a third man approached and punched him in the ribs and head at about 1940 BST, police said.
Mr Singh's wife, Baljit Kaur, said the father-of-one "can't do anything now".
He is still undergoing treatment, including speech therapy.
British Transport Police thanked the media and everyone who has come forward "with this crucial information".