Dover 'people's port' buy-out scheme to be launched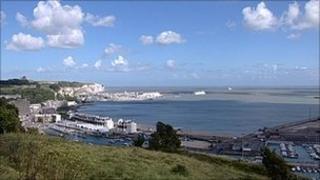 A multi-million pound bid to buy the port of Dover as a "people's port" has been officially launched.
The Dover People's Port Trust, a community scheme, has been backed by singer Dame Vera Lynn.
The government is expected to announce whether the port should be privatised in the near future.
The Kent town's MP has said the scheme is an example of the Big Society in action but the Dover Harbour Board said it doubted it was legally possible.
The port has operated as a trust for more than 400 years and, with no shareholders, all revenue goes back into the business.
The Dover Harbour Board (DHB), which has run the port since 1606, asked for government approval for privatisation in January. A second public consultation on the scheme ended in August.
Conservative MP Charlie Elphicke, who was elected in the town in May's election, said: "I see this as the big society, the people of Dover getting together to take charge of their future, regenerate the town, regenerate the seafront and build the infrastructure that we need to take Dover to the next level."
The scheme would need hundreds of millions of pounds to be raised to buy the port and invest in it in the future.
Mr Elphicke has said his scheme would involve setting up a community trust which local people could join "for a tenner" which would raise cash in the money markets to buy the port.
Forces sweetheart Dame Vera, who sang (There'll Be Blue Birds Over) The White Cliffs of Dover during World War II, has previously said she will support the scheme.
The Unite union has said privatising Dover would be against the national interest. In 2008 its members picketed the port in protest at DHB plans to outsource jobs to private contractors.
But the DHB said it would be for the long-term benefit of UK transport and the UK economy, adding that its current status as a public corporation, which could not borrow money, left it "unable to finance significant additional capacity when required".
Bob Goldfield, its chief executive said: "We are convinced that only the DHB scheme is practical and in line with all of the government's stated objectives, one of which is to hold an open and transparent sale.
"If the people's port proposal can legally be achieved, which experts advise is not possible, meet all of the government's objectives and be competitive, it will no doubt be at liberty to bid."