Witness appeal over Dudley station skull-crush attack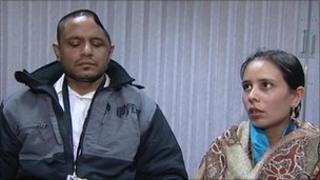 The wife of a man who had his skull crushed in an attack at a Black Country railway station has renewed her appeal for witnesses to come forward.
Raghvir Singh, 37, from Derby, was with his cousin, who has learning difficulties, when two men approached them at Dudley Port station on 30 May.
While Mr Singh was talking to them, a third man approached and punched him in the ribs and head, police said.
His wife Baljit Kaur said the father-of-one "can't do anything now".
The attack in Tipton happened at about 1940 BST and has left Mr Singh's cousin traumatised by what he saw, British Transport Police said.
'Life-altering injuries'
Five months on, Mr Singh is still undergoing treatment, including speech therapy.
His wife said: "He was very nice before the attack. He was very happy all the time, he was playing jokes, playing with his child.
"He can't talk much now. He can't really do anything."
The couple bought a house last year but said they had no way to meet the mortgage as Mr Singh had been unable to work and his wife cares for him full-time.
British Transport Police have released CCTV stills of the men seen talking with Mr Singh before the attack.
Det Con Martyn Guest said: "This was an extremely nasty, apparently unprovoked assault which has left a man with serious, life-altering head injuries.
"No motive for this assault has been identified and it's vital that we find those responsible for this incident as soon as possible.
"It may be that people know who these men are but have initially been afraid to come forward with information.
"If that is the case, I hope that they will think again after hearing how badly this has affected this very close-knit family."