Sir Bobby Robson Foundation pays for £20,000 microscope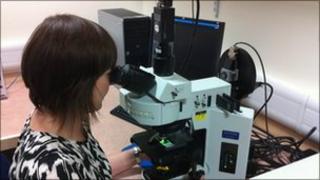 The Sir Bobby Robson Foundation has handed over £20,000 to pay for a microscope to help with leukaemia research.
The new equipment will be used at Newcastle Royal Victoria Infirmary to detect different forms of the cancer.
The microscope can indicate how a patient is likely to respond to treatment.
It will also be used by the Northern Institute for Cancer Research to study other forms of cancer.
Cancer specialist Professor Christine Harrison said the new microscope was an important piece of equipment for the hospital.
She said: "We are grateful to everyone who has raised money in aid of the Sir Bobby Robson Foundation for helping to make this purchase happen."
His widow, Lady Elsie Robson, met Professor Harrison at a handover ceremony at the hospital earlier.
She said: "My husband was keen to support research into leukaemia after the sad death of young Jordan Thompson who played for Newcastle United's academy.
"And we were pleased to contribute £30,000 to the new Teenage Cancer Unit at the Royal Victoria Infirmary for the same reason."
The County Durham-born former England, Newcastle, Ipswich and Barcelona manager died from cancer on 31 July last year.
His charity focuses on the early detection of cancer and the development of new drugs to help beat the disease.
Patrons of the charity include former Newcastle striker Alan Shearer, who played under Sir Bobby for five seasons at St James' Park.
The foundation, set up in 2008, works with scientists at Newcastle University to help develop new cancer treatments.