Rare bumblebees make comeback in Kent and Sussex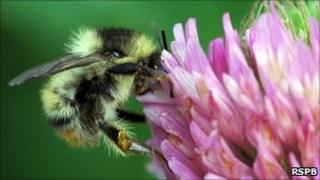 England's five rarest bumblebees have made a comeback in parts of Kent and Sussex, conservationists have said.
The five threatened species have spread their geographic range as a result of environmental schemes in Dungeness and Romney Marsh.
Measures to make the habitat more suitable include putting pollen and nectar-rich flower margins in fields.
Project leader Dr Nikki Gammans said she had not expected to see successful results so quickly.
The measures were introduced last year in a bid to bring the short-haired bumblebee back from New Zealand to the UK.
The species was last seen in the UK in 1988, but populations on the other side of the world have survived.
But the attempt to reintroduce the species failed when many of the insects died during hibernation.
Dr Gammans said by creating the right conditions for the short-haired bumblebee, the five threatened species had flourished.
She said the bumblebees had all increased their ranges in the South East after decades of decline.
"We hoped that we would begin to see results like this for these species but we really didn't expect to see it quite so quickly," she said.
The five species are the large garden bumblebee, the shrill carder bee, the shanked carder bee, the moss carder bee and the brown banded carder bee.
The partnership project is being run by Natural England, the Bumblebee Conservation Trust, the RSPB and Hymettus.