North East seasonal flu jab campaign starts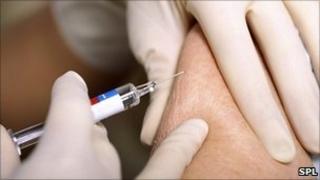 Thousands of people in the north-east of England at risk from flu are being urged to get vaccinated.
The NHS in the region is starting a public awareness campaign about the jabs, which will protect against seasonal and swine flu.
It said there were 800,000 people in the North East who could be at risk.
Among them are people over 65, people with long-term health problems or weakened immune systems and pregnant women.
The campaign will also be aimed at frontline health and social care workers.
NHS North East deputy medical director Dr Tricia Cresswell said: "Flu is a preventable illness yet it continues to kill people in the region every year.
"As we approach winter it is crucial that those at risk, including all frontline health and social care staff, get the vaccine to protect themselves and their loved ones and prevent the virus from spreading."