South East immigration scam suspects bailed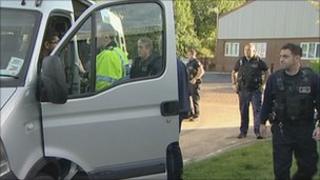 Five people arrested over an alleged illegal immigration scam have been released on bail.
The two women and three men were arrested on Thursday during a series of raids across Surrey, Sussex and Kent.
The UK Border Agency (UKBA) co-ordinated the raids as part of an investigation into the suspected supply of illegal workers into Britain.
A further 24 people, mainly believed to be Sri Lankan nationals, remain in detention pending their deportation.
Illegal labour
The raids follow an eight-month investigation by the UKBA into the suspected supply of illegal labour for an employment agency based in Crawley.
A 48-year-old man and two women, aged 61 and 54, were arrested in Crawley and Clacket Lane services on the M25.
All three were held on suspicion of aiding illegal immigration and money laundering.
A further two men, both Sri Lankans, were arrested on suspicion of assisting illegal immigration.
They have all been bailed to return to a police station in December.