Drugs funding boost for North of England Cancer Network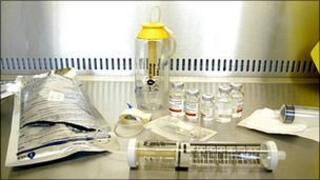 The north east of England has been given a £2.8m funding boost for cancer treatments.
NHS bosses will be working with the North of England Cancer Network to decide how it can be shared across the region's health authorities fairly.
They will aim to ensure that approval of how cancer drugs and treatments are prescribed is consistent irrespective of where patients live.
The money is a share of £50m funded nationally by the Department of Health.
An average-sized hospital trust spends about £5.5m on cancer drugs every year.
The network was formed in 2007 by the integration of the Northern Cancer Network and the Cancer Care Alliance, and serves a population of approximately 3 million.
Steve Williamson, consultant pharmacist, said: "These additional funds represent potential benefits for some patients seeking cancer treatment and we need to ensure we have a clear process for managing how we use them.
"Because we already have a strong track record in agreeing cancer drugs for use in the region we are able to work in an innovative and collaborative way, and ensure more patients can access potentially life enhancing drugs, fairly, quickly, and when they need them most."