Comedy of errors over Stan Laurel birthplace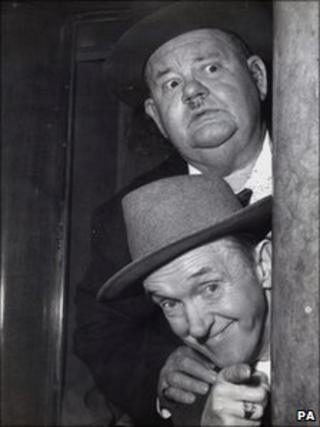 An error over Stan Laurel's birthplace has led to red faces at a tourism organisation.
Visit County Durham printed 50,000 leaflets describing the attractions of Bishop Auckland, and pointing out that it was also the comic's birthplace.
However, while he was baptised and educated in the town, he was actually born in Ulverston, Cumbria.
Craig Wilson from Visit County Durham said the mistake was the result of a "strong urban myth".
He said: "When we were putting the leaflets together, we knew he was baptised, went to school and grew up in Bishop Auckland where his parents ran the theatre.
"So unfortunately that was translated into him being born here.
"We will be looking to correct this in the next edition."
'Birth certificate'
"I've also put in a call to South Lakeland Tourism to see if there's anything more we can do to work together and share the limelight of Stan Laurel," he added.
Mark Greenhow, manager of the Laurel and Hardy Museum in Ulverston, said: "For the longest time it was thought that Stan Laurel was born in the north east - either Bishop Auckland or North Shields.
"However, in the early 70s my grandfather who started the museum got hold of a the birth certificate which proved that Stan Laurel, who was born Arthur Stanley Jefferson, was born in Ulvesrston."
Referring to the leaflets, he added: "It's a shame it has made it on to 50,000, but they've held their hands up and let us know there's been a mistake.
"These things do happen."