Tunbridge Wells beauty queen returns to Army life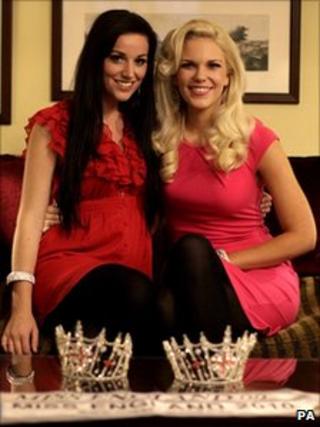 A soldier who served in Iraq and was crowned Miss England has announced she will swap her evening gowns for combat fatigues and return to Army life.
L/Cpl Katrina Hodge, 23, from Tunbridge Wells, Kent, who handed over her crown to new winner Jessica Linley, will return to Army duties on Thursday.
She was drafted in after the winner of the 2009 national contest stepped down.
The part-time model was nicknamed Combat Barbie after being commended for bravery in Iraq.
L/Cpl Hodge said: "Obviously I'm a little bit nervous because I've lived a different life for a year, but I'm looking forward to it because I have missed my job.
"I am a bit apprehensive but excited too.
"I'm going to a new place with new people so they didn't know me before.
"I don't think I've changed at all though, I think I've stayed quite grounded."
'Glitz and glamour'
She added: "Everyone has an opinion initially but people will realise I'm just a normal Army girl.
"I've always said I was going to go back, I really enjoyed my job in the Army before I became Miss England.
"I've had a year of glitz and glamour but that sort of stuff doesn't last - the Army is a career for me."
She was first runner-up in the 2009 national contest, but was promoted after Rachel Christie, athlete Linford Christie's niece, stepped down to clear her name.
Miss Christie, was accused of punching Miss Manchester, Sara Beverley Jones, at a nightclub in Manchester in November 2009.
The case was dropped by the Crown Prosecution Service (CPS) in April because of a lack of evidence.
L/Cpl Hodge was given leave from her duties as a soldier in the British Army to represent England in the Miss World final in Johannesburg, South Africa.
The international title was won by Kaiane Aldorino, Miss Gibraltar.