Cofton Park's grass still damaged after Pope's Mass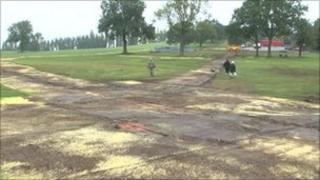 People using Cofton Park in Birmingham, where the Pope beatified Cardinal John Henry Newman, say it has been left in mess nine days after his visit.
More than 50,000 people attended a Mass in the park on the last day of Pope Benedict's first UK visit.
Clem Sutton, who has used the park for 60 years, said he hoped it "looks worse than it is".
The council said repairs to the damaged grass were under way and it was hoped nature would then take its course.
Work to remove the tracks on the turf is expected to be completed on Wednesday.
Mr Sutton said: "I hope it looks worse than it turns out to be.
"Hopefully nature is great and it will re-seed itself and repair."
Pope Benedict spent four days in the UK, visiting Edinburgh, Glasgow and London before the ceremony in the park. He then flew home to Rome from Birmingham airport.
The beatification of Cardinal Newman is the penultimate step on the path to full sainthood.