Lynton wild goats moved to new pastures in Surrey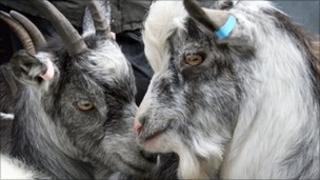 Fourteen goats whose health had suffered because of overgrazing have been moved from north Devon to Surrey.
Surrey Wildlife Trust (SWT) rescued the goats from the Valley of the Rocks at Lynton after the town council said they would otherwise have been put down.
A lack of natural food was driving the goats to eat seaweed and to break out into the town and residents' gardens.
They were rehomed at Ash Ranges, near Pirbright, and joined 28 others which were moved there from north Wales.
James Adler, SWT grazing manager, said: "These goats are vital to helping us sustainably manage one of the most threatened European habitats.
"We are giving these animals a beautiful environment - full of food - to live in and, in return, they are keeping the heathland landscape free of invasive scrub that can decimate the biodiversity interest of the heath."