Midlands Air Ambulance bucket figures down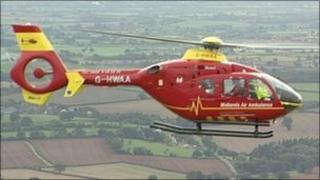 A fall of up to £100,000 in static tin and bucket collection revenue this year has been revealed by Midlands Air Ambulance.
But the charity said it was "very much on track" this year to secure the £6m in income it needs to operate three helicopters and provide the service.
Static tin and bucket collection rates have dropped by about 10%, it added.
Forty percent of its income is supported through gifts in wills and legacies.
Midlands Air Ambulance charity director Hanna Sebright said: "The legacy donations have not dropped in volume.
"What has dropped are the value of the legacies which I think is down to property values obviously dropping slightly this year and also taking longer to sell properties, so legacies taking longer to come through."
The fall in static tin and bucket collection revenue equates to £75,000 to £100,000 of revenues.
The service operates across Gloucestershire, Herefordshire, Shropshire, Staffordshire, West Midlands and Worcestershire.
Its helicopters are based at RAF Cosford in Shropshire, Strensham Services on the M5 in Worcestershire and Tattenhill in Staffordshire.