Minister meets Warwickshire residents over rail link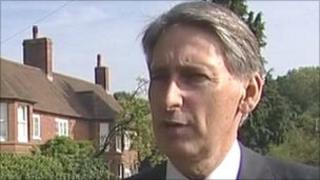 Transport Secretary Philip Hammond has met residents in Warwickshire affected by the high-speed rail link.
The meeting at the University of Warwick comes just weeks after part of the proposed route was revised.
The government has said the link would enable trains to travel between London and Birmingham in 49 minutes.
But residents in several areas have formed protest groups fearing the route will blight their homes. A government compensation fund has been set up.
The government has said the route would go from London's Euston Station, run just south of Aylesbury, between Coventry and Kenilworth, and then into a new station in the Eastside area of Birmingham.
'Construction blight'
Some residents in Northamptonshire, Warwickshire, Staffordshire, Buckinghamshire and Oxfordshire are against the scheme.
Earlier this month, Kenilworth and Southam MP Jeremy Wright said the Warwickshire revision moved the line further away from Ladbroke and Stoneleigh and through a covered tunnel in Burton Green.
But he said he accepted that moving it way from one area, meant it moved closer to another area.
John Lee, who lives in Southam and will attend the meeting, told BBC News that he could suffer seven years of "construction blight" before the trains even start running.
Taxpayers are also being "mugged" by the costs of the route, he added.
"There's an awful lot of public money," he said.
"The taxpayer is being mugged for almost £20bn - and that's the government's initial estimate - for a railway that seems, at best, to be wishful thinking."
A £50m compensation fund was set up to help those "severely" affected by the route.